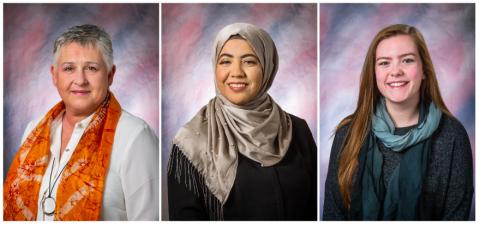 Three RACC Students Honored for Academic Excellence
HARRISBURG — The Pennsylvania Commission for Community Colleges (PACCC) recently announced the 26th Annual All-Pennsylvania Academic Team. The honor recognizes an exceptional group of community college students who have achieved academic excellence and demonstrated a commitment to their colleges and communities. 
The 2020 awardees include three Reading Area Community College outstanding transfer scholars. Transfer students must have completed at least 36 credits at a community college and must have a cumulative GPA of 3.5 or higher to be considered for these awards. Workforce students must have a minimum of 12 college-level credit hours at a community college and a cumulative GPA of 3.5 or higher. 
The three Reading Area Community College scholarship winners are Ms. Valerie Mackey, Ms. Afaf Maslah (Coca-Cola New Century Workforce Pathway Scholar), and Ms. Emma Wright.
"We at Reading Area Community College applaud these outstanding student scholars on their terrific academic achievements," says Dr. Susan D. Looney, president of Reading Area Community College. "By enrolling in high-quality educational programs, these students are building a foundation for a successful career while furthering their postsecondary study."  
Pennsylvania's community colleges partner with the Pennsylvania State System of Higher Education (PASSHE) universities to provide scholarships to eligible All-PA Transfer Team members at PASSHE institutions, providing two years of tuition at any PASSHE school. 
Students nominated to the national All-USA Community College Academic Team are automatically named to the All-State Community College Academic Teams. The programs share common eligibility criteria, which includes enrollment at a community college, a minimum 3.5 grade point average, completion of a minimum of 36 college-level credits and being on track to receive an associate or bachelor's degree.