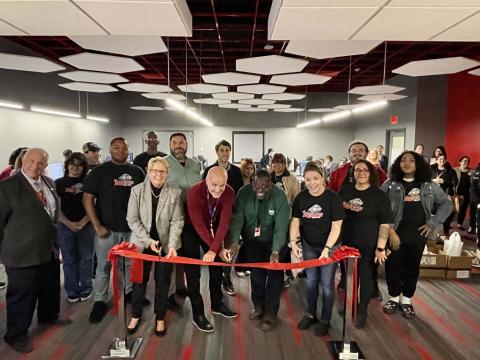 RACC unveiled its new Esports Center
November 20, 2023 — Reading Area Community College (RACC) unveiled its new Esports Center with a ground breaking and open house on Monday.
"We are extremely proud of this amazing facility," says RACC President Dr. Susan Looney. "It has surpassed all my expectations, and I have a feeling this is only the start. The Esports Club continues to grow in membership and I'm eager to see how this facility helps grow this club."
Located in the college's Student Union Building, the gaming hub features 25 gaming machines featuring  MSI computers with the newest Nvidia RTX 4090 graphics card with Samsung Odyssey monitors. 
The college launched the Esports Club in 2019 with eight gaming stations and about 20 members. After students returned to campus after COVID-19, membership began to increase, quickly outgrowing its small space in Weitz Hall. College leadership worked with Reading-based Muhlenberg Green Architects, and Ethosource, to design and furnish the over 1,200 square foot $300,000 project. 
 
"I'm happy the Esports Club now has a state-of-the-art facility to match the skills and enthusiasm of our team," says Esports Club Advisor, Sonia Rieger. The new facility will further provide support for students that want to compete in local or regional collegiate tournaments with their friends and peers," she continues.
To learn more about Esports at RACC, contact Sonia at srieger@racc.edu or 610.607.4081.