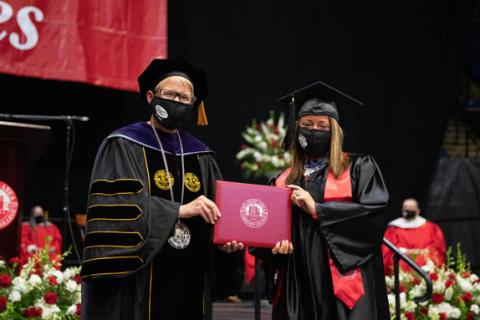 RACC Celebrates 2021 and 2020 Graduates and Success at 49th Annual Commencement Ceremony
Reading, PA, Friday, May 7, 2021 – Reading Area Community College celebrated its 49th Commencement on Friday, May 7 at Santander Arena. Approximately 800 students graduated from their degree, certificate or diploma programs this year.
Carolína Hidalgo-Ahmed was this year's student speaker. She was born in San Francisco de Macorís, República Dominicana. At the age of four, she immigrated to the United States with her mother to join her father, who had immigrated to the US a few years earlier. She grew up in the boroughs of New York City, first on the Lower East Side and later Washington Heights, a community known for its rich Dominican diaspora culture. She will continue her education at Millersville University to earn her Bachelor in Social Work (BSW). Carolina is currently working on starting a non-profit organization, PÉCAN The HONE Initiative, which focuses on hands-on nutrition education for children who qualify for free or reduced lunch in Berks County.
RACC President, Dr. Susan D. Looney presented this year's President's Award to Berks County entrepreneur, business mogul and philanthropist Rolf Schmidt. Schmidt immigrated to the United States in 1957. His subsequent years in America were filled with business and personal success, which extended beyond the conventional boundaries of those measured by the typical American dream. Rolf's commitment to educational excellence culminated in the establishment of the Schmidt Training and Technology Center. The center was named in his honor and opened in the spring of 2006. Rolf has been a leader of the Board of the Foundation for Reading Area Community College for thirty years. Rolf's service to the Foundation started in 1991 and Rolf's remarkable philanthropy to RACC is only part of his importance as one of the greatest figures in the history of the college.
"This year, especially, it is a privilege and a joy to see so many graduates persevere and take this step toward great success in the years ahead. Our students and graduates continue to inspire me every day, and will continue to make the RACC family of faculty, staff, students and alumni very proud," Looney stated.