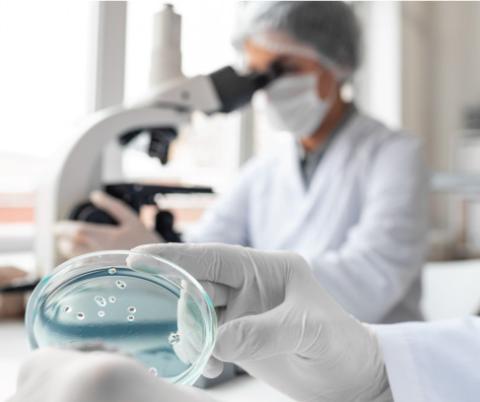 Histotechnician
RACC Earns Prestigious Histotechnician Program Accreditation
October 19, 2023 — Reading Area Community College (RACC) has achieved accreditation status for their Histotechnician program. Following a rigorous evaluation process, the program has been granted accreditation by the National Accrediting Agency for Clinical Laboratory Sciences (NAACLS) for five years.
Accreditation by NAACLS is a testament to the exceptional quality and standards maintained by RACC's Histotechnician program. This achievement is a result of the dedicated efforts of faculty, staff and students who have consistently demonstrated a commitment to excellence in education and training.
The Histotechnician (HT) is a medical lab worker responsible for processing surgical tissues, biopsies, and autopsy specimens for microscopic review by pathologists. Illnesses such as cancer or serious infections can often be detected by the arrangement of cells in a tissue sample.
"We are thrilled to have achieved this significant milestone for our Histotechnician program. This accreditation affirms our commitment to providing exceptional education in healthcare and further validates the efforts of our faculty and staff in maintaining the highest standards of excellence," says RACC Dean of Health Professions, Dr. Stacia Visgarda.
RACC's state-of-the-art facilities, experienced faculty, and hands-on learning opportunities ensure that graduates are well-prepared to meet the demands of the industry.
The employment prospects for the field of Histotechnology are projected to be high due to a growing demand for medical and diagnostic services, as well as advances in medical research that require the use of histologic techniques.
To learn more about health professions programs at Reading Area Community College, contact admissions@racc.edu or 610.607.6224.