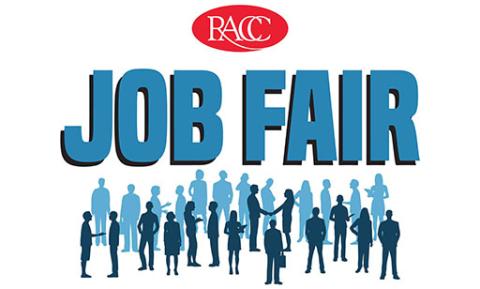 RACC to Host 2019 Job Fair
Reading, PA –The Career Services Office at Reading Area Community College is pleased to announce our Job Fair 2019, which will be held on Wednesday, April 10th, 2019, from 11:00 a.m.-3:00 p.m. The event is open to all students and graduates of RACC, and job seekers from the general public are welcome to attend as well. The event will be held in the Schmidt Training and Technology Center on RACC's campus.
"We are expecting 51 employers," says Jen Gittings-Dalton, Career Development Specialist at RACC. "We have employers hiring students from most majors, and in multiple career areas. They are offering full-time, part-time, and internship positions. We encourage all types of job-seekers to attend." 
Job seekers are encouraged to dress appropriately for interviewing and to bring multiple copies of their resume, if they have one. RACC students may create or improve their resumes by visiting the RACC Career Center, and also get help with interviewing and job search skills and any career-related questions. The Career Center is located in room B-220, Berks Hall; students may drop by during office hours or make an appointment by calling 610-607-6246.
RACC partners with many local employers in hiring and services.
RACC's annual Job Fair has been held at RACC for many years, with positive reviews from both attendees and employers. "We are proud of our students," said Gittings-Dalton, "and we are proud of our community.  The people of Berks County are well-known for their hard work and loyalty, and RACC interns, students, and graduates add talent and skills to that foundation."
For more information, contact Pat Edgar at 607-6246.