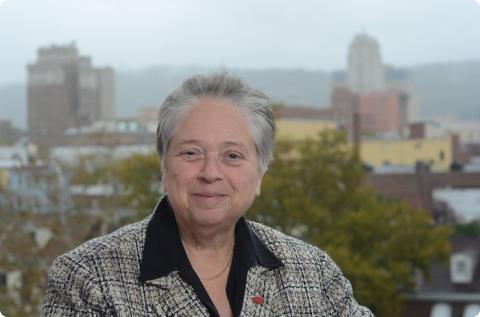 Dr. Anna D. Weitz
Thursday September 14, 2017 12:01 AM / Written by Matt Carey / Reading, PA
The president of Reading Area Community College announced Wednesday that she will retire next year after more than a decade with the school.
Dr. Anna D. Weitz has led the school since June 1, 2007, when she became its fifth president. Her retirement will be effective June 30.
"Looking back, I am grateful to the faculty and staff, and am proud to be a part of a group so dedicated to our college and especially to our students," Weitz said in a written statement Wednesday. "Our collective focus on students and their success truly is our guidepost.
"The RACC of today embodies the power of providing opportunity for all who seek to improve their lives through education."
Weitz received a standing ovation from the college's trustees upon announcing her retirement at a meeting Wednesday night.
"You don't really know the width and breadth of the knowledge somebody has until you can sit down with them on a regular basis and discuss higher education," said Guido M. Pichini, chairman of the board. "We've been blessed to have Dr. Weitz as our president and the community has been more blessed to have Dr. Weitz as president."
During Weitz' tenure, she has overseen the opening and growth of the Miller Center for the Arts on campus, as well as the growth of the Schmidt Training & Technology Center, which has become a destination for associate degrees in advanced manufacturing.
The school also opened the Gateway Center for Career Training, which offers noncredit certificate programs.
The school signed dual-admission agreements with several schools, including Temple and St. Joseph's universities in Philadelphia, as well as Albright College, Alvernia University and Kutztown University, that allow for conditional acceptance and a smooth transfer into those schools after the successful completion of two years at RACC.
Pichini said Weitz is leaving RACC in excellent shape for future generations.

"She has absolutely changed our relationship with the community and the companies in Berks County," he said.
"I think it's time," Weitz said. "It's just a time in my life where I was ready to turn that page."
Originally from South Portland, Maine, Weitz took the helm at RACC after five years as president of Pennsylvania Highlands Community College in Johnstown, Cambria County.

Weitz said Wednesday that she will continue to live in Berks County after her retirement.
Following Weitz' announcement and an executive session, the board approved a contract for $35,000, plus travel expenses and shipping costs, with the Association of Community College Trustees in Washington to conduct a search for Weitz' successor.
Weitz will serve as an ad hoc member of the search committee.