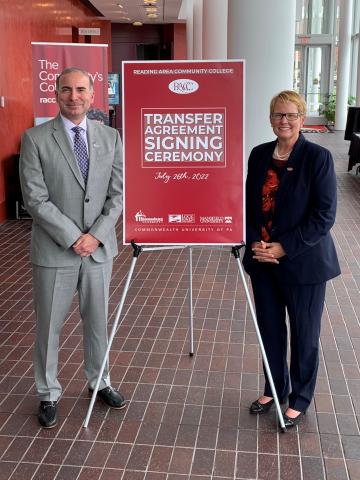 RACC Signs Guaranteed Transfer Agreement
RACC Signs Guaranteed Transfer Admissions Agreement With Commonwealth University of Pennsylvania
READING, PA – On Tuesday, July 26, Reading Area Community College (RACC) signed a guaranteed transfer agreement with Commonwealth University of Pennsylvania in the Miller Center for the Arts on the RACC campus.
RACC and Commonwealth University (Bloomsburg, Lock Haven, and Mansfield universities) established this agreement to ensure qualifying students who graduate from RACC are guaranteed admission to Commonwealth University with at least full junior standing; with a guarantee for a renewable transfer scholarship based on the students' academic performance while enrolled at RACC and Commonwealth University.
"We are celebrating today a new agreement with Commonwealth University, which will open many new doors of opportunity for our graduates. This pathway is the result of great cooperation and collaboration between faculty and deans of our respective institutions and will serve well both the needs of our institutions and, more importantly, those of our students," says Reading Area Community College President, Dr. Susan Looney.
Commonwealth University will guarantee on-campus housing at the Bloomsburg, Lock Haven, or Mansfield campuses for the first year of full-time attendance for transferring students who wish to live on campus.
"Commonwealth University is committed to working with our community college partners to break down traditional barriers to education and ensure students have a clear path to success. This agreement is a shining example of partnership in action," said CU President Bashar Hanna. "I'm thrilled to witness the collaboration between our colleagues at Reading Area Community College and Commonwealth University—their vision and dedication is providing students a seamless transition, along with guaranteed, renewable transfer scholarships. Thank you to all who have made this possible in service to our region's students."
Student scholarships are also an exciting component of the agreement. Commonwealth University will award 4 tiers of transfer scholarships to RACC graduates – Tier 1 (3.50 GPA or above at RACC) will award $5,000 annually, Tier 2 (3.0 – 3.49 GPA at RACC) will award $4,000 annually, Tier 3 (2.50 – 2.99 GPA at RACC) will award $3,000 annually, and Tier 4 (2.0 – 2.49 GPA at RACC) will award $2,000 annually.
"The availability of student scholarships when transferring a RACC associate degree to Commonwealth University's bachelor's degree program makes access to a continuing education easier and will reduce the financial burden for our qualified transferring students," says RACC Director of Academic Partnerships, Kristen M. Marcinko.
To learn more about the Commonwealth University of Pennsylvania transfer agreement, or for more information about other transfer opportunities, contact Leora Chernesky at 610.372.4721 x5106, or visit https://www.racc.edu/services/transfer-services.
About Commonwealth University of Pennsylvania
With 500 combined years of serving the students of Pennsylvania and beyond, Bloomsburg, Lock Haven, and Mansfield universities have joined together under the banner of Commonwealth University. Our mission is to expand high-quality, affordable academic opportunities to support the needs of all learners. Together, we provide financially responsible degree options that maximize experiential learning, career preparation, and efficient time to degree completion.
About Reading Area Community College
Reading Area Community College is an accredited, comprehensive, open-enrollment education institution that provides associate degree, certificate, and diploma programs, career-focused training, transitional coursework, skills training for business and industry, personal enrichment programs, and public service activities. Sponsored by Berks County, the college provides affordable access to meet identified community educational needs.