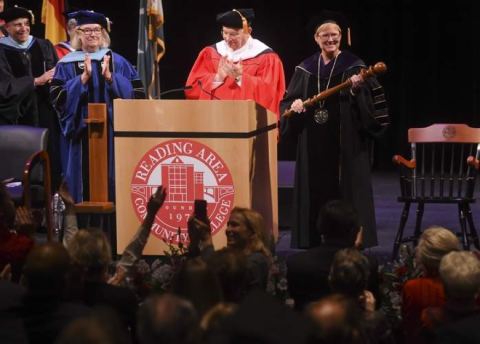 Dr Looney
October 9, 2018/Written by David Mekeel/Reading, PA
A few weeks ago, someone asked Dr. Susan D. Looney where she saw Reading Area Community College being five years down the road.
She responded that she saw it as being much the way it already is, with all the great things that have been going on simply being taken even further.
Looney relayed the story to a crowd gathered Monday afternoon inside RACC's Miller Center for the Arts. She said she sees students of all ages learning and succeeding. She said sees a welcoming environment that's also nimble and aggressive, able to quickly meet workforce needs.
She said she sees supportive faculty and staff, an administration that truly leads, a schoolwide ethos of never settling for the status quo. She sees graduates ready to continue their education or enter the workforce.
She said she sees herself healthy and active - still doing her 5 a.m. workouts and still leading, honored to be the steward of a great institution.
"I see myself always being #RACCProud," she concluded.
Looney will have a unique ability to make all that happen. She is, after all, the woman in charge.
Although she has been on the job since July, the 50-year-old officially took the reins as RACC's sixth president during an inauguration ceremony Monday afternoon.
Dressed in a black gown with gold piping, a purple sash around her neck and a black cap on her head, she raised her right hand and repeated her oath of office. Then, with a medallion placed around her neck and a wooden mace in her right hand, she turned to face a crowd on its feet and applauding wildly.
Looney replaced Dr. Anna D. Weitz, who retired after serving as RACC's president for 11 years.
'The Four Agreements'
During her inauguration speech, Looney said that she will lead based on four principles developed from the book "The Four Agreements: A Practical Guide to Personal Freedom," by Don Miguel Ruiz.
She said that she will be impeccable with her word.
"There will be no empty promises," Looney said.
Second, she said she won't take things personally, that when she has a disagreement she won't let it poison relationships or cloud decisions.
Third, she said she won't make assumptions, instead always striving to dig deeper and learn more.
Finally, she said she will always strive to do her best.
Those principles, Looney said, will help her focus on what she calls the four hallmarks of a community college - the things by which she will measure RACC's success.
Those hallmarks are access, opportunity, excellence and hope.
Prior to her own remarks, Looney got a chance to hear what some others had to say about her. She listened to glowing reviews from the likes of state Sen. Judy Schwank and Berks County commissioners Chairman Christian Y. Leinbach. She heard from faculty and board members and a current RACC student.
Each spoke of Looney's unique path, about how she went from a high school dropout to a successful harness racer to a nervous community college student to a teacher and administrator.
Leinbach said that very few take a straight line from high school to their ultimate career destination, and Looney knows that well. He said her path makes her the perfect person to understand the often nontraditional tracks upon which RACC students find themselves.
Pair from her past
The most poignant words about Looney came from two people from her past. The first was Trudy Rich.
Twenty years ago, Rich was an introverted mother of a small child. She ended up taking a temporary job in accounts payable at a manufacturing plant and decided she could do the job better with a little more understanding. She signed up for night classes at her local community college.
"My first class was taught by the great Dr. Looney," she said.
She said Looney was endlessly supportive and encouraging, the type of teacher who would do anything for her students.
"Her office door was always open," Rich said.
Looney pushed Rich, first as a teacher and later as a mentor. With her support, Rich thrived, and today owns her own accounting business.
"Thank you, Dr. Looney, for changing my life," she said.
Similarly, Looney pushed Jan Clapp, not as a student but as an employee. Looney told Clapp that there was a job opening at Delaware Technical Community College, where Looney was then an assistant to the campus director and the director of corporate and communication programs, that was perfect for Clapp.
It was a job Clapp had no intention of taking.
"I'll see you Monday morning at 8:30 a.m.," she recalls Looney telling her, saying that Looney ended up convincing her to take the job.
"Susan Looney doesn't take no for an answer," Clapp said.
Of course, Clapp said, Looney was right. Clapp loved working at the community college, even after Looney pushed her to take over handling federal grants just two months into her tenure.
"Susan had complete faith in my abilities," she said. "She was always there to support and encourage me."
Clapp said that Looney was always a leader, not a boss. She sees the best in people, and recognizes potential and knows how to nurture and use it.
"She created a culture of 'I can; I will,' " she said.
Monday's inauguration ceremony followed a week of celebration that included, among other things, a costume parade, a flash mob dance party, a fun run, a concert and an inaugural reception.