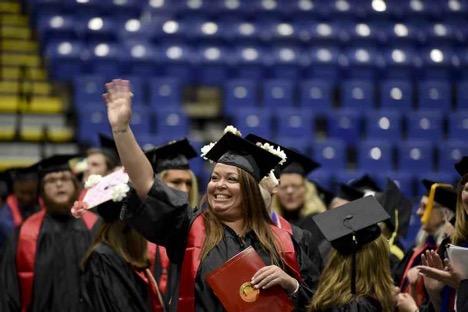 Record number of students graduate from RACC
Written by Reading Eagle
Reading, PA — Reading Area Community College celebrated its 47th commencement Friday afternoon with a record high of 540 students earning degrees, certificates and diplomas from the community college.
"It is a privilege and a joy to see so many graduates take this step toward great success in the years ahead," Dr. Susan D. Looney, college president, said during a ceremony in Santander Arena. "Our students and graduates continue to inspire me every day, and they will continue to make the RACC family of faculty, staff, students and alumni very proud."
Looney, during her first graduation ceremony as RACC president, presented the President's Award to Dr. Thomas F. Flynn, president of Alvernia. Flynn started in his post in 2005 and is retiring in June.
During his tenure, Flynn has overseen the development of new strategic and campus master plans that culminated when Alvernia achieved university status in 2008.
April Conrad, who received a degree in health science, delivered the student speech. Conrad plans to work as a pediatric cardiovascular sonographer.
During her two years at RACC, Conrad showcased leadership skills as a college ambassador and peer mentor. Conrad's poetry has been published in RACC's literary magazine, Legacy.