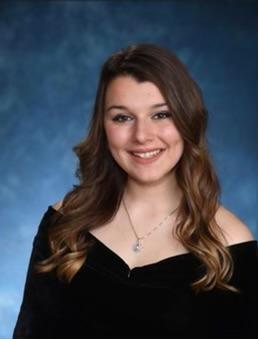 RACC DE Student Rowan Crammer
Reading, PA – Reading Area Community College (RACC) is providing significantly reduced tuition rates to their students who take the Dual Enrollment courses. 
Dual enrollment, or early college, is used by high school students to explore college options and earn college credit prior to high school graduation. Increasingly popular among eligible high school students, these programs allow secondary students to enroll in postsecondary coursework and receive both college and high school credit simultaneously…at a reduced cost. One Berks County school district experiencing the benefits of RACC Dual Enrollment programs is the Muhlenberg School District.
Muhlenberg High School Principal, Mike Mish, sees the benefits of dual enrollment. "It allows and affords many of our students to get a jumpstart on earning college credits. We have worked hard to provide students with as many opportunities as possible to continue to advance their education. Our partnership with RACC has been amazing. The faculty and staff at RACC have been such a wonderful resource to us at Muhlenberg and we look forward to many more years working together. We have the most students and courses being taken since our partnership with RACC has started." In some cases, there is no tuition charge for high school students participating in the dual-enrollment program through the Foundation for RACC's DE Scholarship Program. 
"By taking a college course at their own high school, students learn to challenge themselves academically and gain valuable experience in preparation for college," says RACC Assistant Director of Early College Programs Kristen Marcinko. "Through the Foundation for RACC, many Dual Enrollment students are awarded no-cost tuition for the program." One standout Muhlenberg High School student who is taking advantage of the RACC Dual Enrollment opportunity this semester is senior Rowan Korinn Crammer. After graduation, Rowan will be enrolled in the Chemical Engineering Honors Program at Drexel University. She feels fortunate to have gone through the RACC DE program. "The program set me up for success, and helped me feel very prepared for college. Almost all my credits will transfer, and I was able to save a significant amount of money as well," she says.
Rowan is a second-generation RACC student. Her mother, Jennifer Koch, is a distinguished 2010 RACC graduate, who received the Eugene Shirk Scholarship to Albright College, then continued to Drexel University for her Master's in Library Science and Archival Studies. She is currently the Archivist at Bethany Children's Home.
 "The benefits of Dual Enrollment are essentially college credits at a discounted rate and the ability to take a class that could be challenging with the full supports available at the high school level that aren't as readily available at the post-secondary level; such as seeing the teacher every day," says Muhlenberg High School Math Dual Enrollment instructor, Justin Vallone. 
Now is the time to sign up for classes in your high school, for next school year, that offer dual enrollment. Muhlenberg High School Counselor, Melissa Work, promotes Dual Enrollment within her district. "Our families are very appreciative and excited to participate in RACC's dual enrollment program. We ensure that our families are aware of this wonderful opportunity prior to scheduling courses, so every student can participate." 
To learn more about the Dual Enrollment program at RACC, contact Assistant Director of Early College Programs, Kristen Marcinko at kmarcinko@racc.edu or 610.372.4721 x5127.