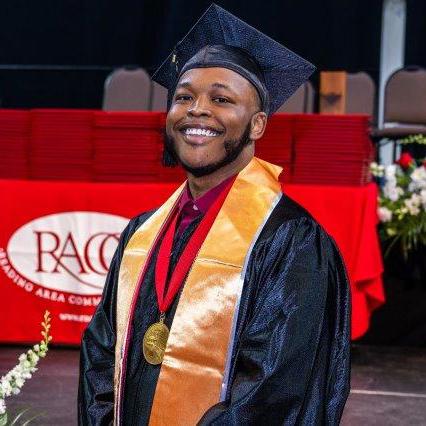 Jamal Dancy
Congratulations to Jamal Dancy. The first graduate spotlight of our RACC 2022 graduate success series!
Jamal Dancy is a criminal justice major and a first-generation college student. As a freshman at RACC, Jamal quickly became a well-known face around campus. As a Student Ambassador, vice-president of the Student Government Association, and treasurer of the Phi Theta Kappa Honor Society, he immersed himself in student activities, while still developing leadership qualities through RACC's National Society of Leadership and Success.
This fall, Jamal will be attending Alvernia University on a full scholarship to complete his bachelor's degree. Upon graduating, he plans to work as a juvenile probation officer with inner city youth to guide them toward a better path in life. Ultimately, he wishes to further advance his education in law school-becoming a judge in juvenile court.