Diversity, Equity, Inclusion and Belonging
Mission Statement and Core Values
The Mission Statement adopted by the Reading Area Community College Board of Trustees is as follows:
Reading Area Community College builds communities of learning committed to educational growth and to the economic vitality in our region.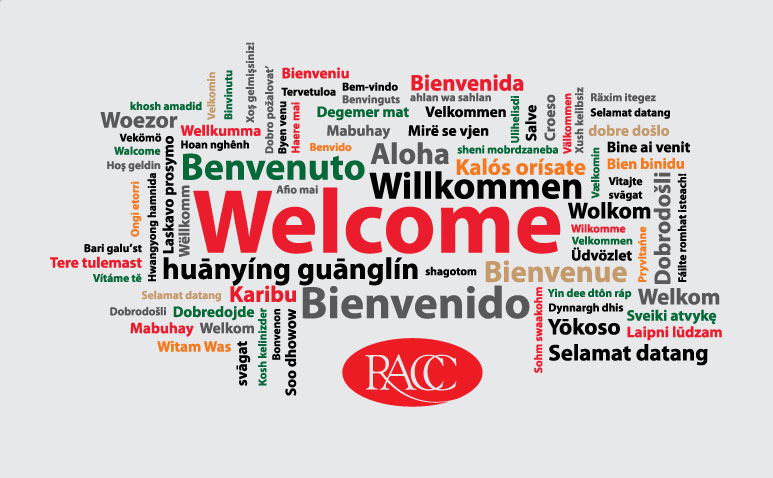 At RACC…
We strive for excellence in all our actions.
We promote student learning and personal growth through teaching and mentoring.
We create welcoming and safe environments where intellectual curiosity and learning can flourish.
We value the diversity in our community and the richness it brings.
We connect students to resources within the College and the community at large that best meet their educational needs.
We are committed to lifelong learning both for students and ourselves.
Philosophy
Reading Area Community College believes in the educational enrichment of each citizen and the economic and cultural development of the community we serve. We are committed to the four, key "hallmarks" which we believe are at the core of a comprehensive community college: access, opportunity, excellence and hope.
Access. We provide access to an education for all students. As an open access institution, students have the chance to fulfill their aspirations and educational goals.
Opportunity. As teachers, administrators, student services, or support personnel, we strive to work in harmony, aligned with our commitment to student success in order to ensure that every student has the opportunity to achieve their dreams.
Excellence. We are committed to excellence in everything we do. Unique to community colleges is the opportunity to personalize learning and support services to address a student where he or she may be on the learning spectrum.
Hope. Reading Area Community College has offered hope to so many who thought they could never pursue a higher education. Our mission ultimately offers hope to all persons, and we will continue to work diligently to sustain, and ultimately fulfill, that hope for all students.
Services at RACC
Reading Area Community College is committed to providing services to our students that allow access to programs and support that is safe, equitable and inclusive.
Accessibility Services
Reading Area Community College and the office of Accessibility Services welcome all qualified students with disabilities. In accordance with Section 504 of the Rehabilitation Act, the Americans with Disabilities Act (ADA) of 1990 and the ADA Amendments Act of 2008, the college is committed to providing equal access to all programs and activities.
RACC does not offer a specialized program for students with disabilities. All students, including those with disabilities, are responsible to meet the requirements outlined in RACC'S Student Code of Conduct.
Title IX Compliance
Reading Area Community College is committed to your full participation in all of its educational programs and activities. RACC understands that Sexual Misconduct is a problem in our society, including on college campuses.
RACC takes seriously any allegation of Sexual Misconduct, which includes discrimination based on sex, sexual harassment, dating violence, domestic violence, sexual assault, and stalking. RACC's stand against Sexual Misconduct also includes Sexual Misconduct that you may have experienced as a result of your sexual orientation, gender identity, or national origin. If you are experiencing, or have recently experienced, any form of Sexual Misconduct, please contact the Office of the Title IX Coordinator at (610) 372-4721, ext. 5016, or any other faculty member or administrator whom you trust. In an emergency or off-hours situation, always call 9-1-1 or RACC Campus Security at (610) 607-6230.
The Diversity, Equity, Inclusion and Belonging Committee
Goals
Support the institutional value of diversity and the richness it brings by making suggestions for reducing gaps in student retention and completion through the use of equitable practice in and out of the classroom, professional development in cultural proficiency, and effective communication.
Reduce performance gaps between groups of students by promoting the institutional value of diversity and the richness it brings through equitable practice.
Charges
Identify and seek to reduce performance gaps between groups of students.
Ensure that committee members are trained on culturally proficient practices.
Make suggestions for actions that further the strategic plan with an emphasis on promoting diversity as an institutional value.
Serve as consultants to other college units/individuals in identifying equitable practices.
Composition
The Diversity, Equity, Inclusion and Belonging Committee membership, representative of a variety of campus constituents, will routinely evaluate the institution's effectiveness in reducing performance gaps between targeted at-risk students and will make suggestions for reducing gaps through the use of equitable practice for effectiveness in and out of the classroom, professional development in cultural proficiency, and effective communication.
Student Support Services Program/Advantage Program
A program that is funded by the U.S. Department of Education that provides comprehensive academic support first-generation, academically eligible, low income, and students with disabilities to help them be successful in college and achieve success. 
Each Advantage Program student is required to meet with a caseload specialist to set goals for the fall and spring semesters. Students with less than 30 credits earned will be required to meet at least three times per semester to set the goals and to follow up on student progress toward those goals, as well as academic standing and other issues.
KEYS Program
Keystone Education Yields Success (KEYS) is a state-funded program designed to help a specific group of students attend and succeed at a community college. Students who receive benefits through Temporary Assistance for Needy Families (TANF/Cash) and/or Supplemental Nutritional Assistance Program (SNAP/Food Stamps) may be eligible to participate in the KEYS program. The program provides a student facilitator to help students navigate the college experience and achieve their career goals. Students are also be connected to college resources and other supportive services in the local community. Students enrolled in KEYS may be eligible for financial assistance to cover such expenses as: Child care, Transportation, School/training registration fee (not tuition), Books and school or training supplies, Test fees, Clothing, Equipment/tools needed for school/training, Car purchase, Car repair, and Motor vehicle operator fees.
Chosen Name Process
Reading Area Community College recognizes that employees and students may wish to use a name other than their given name as recorded on official college documents. When designated by a student, the college will use a chosen first/given name in all college documents except where use of the official name is required by college business or legal need. It is understood that the use of a chosen name is not permissible for any purpose of misrepresentation and can be denied at the discretion of college administration.
Other Programs and Initiatives