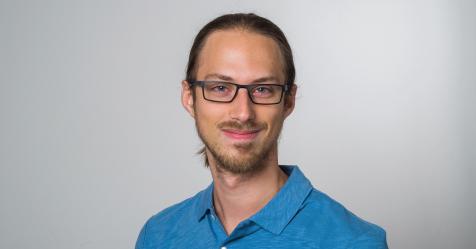 Joshua Riojas
For Joshua Riojas, RACC was just the beginning of his successful journey. "My professional work experience and education all started at RACC, and the school deserves a tremendous amount of credit in how I have progressed through life professionally."
Joshua graduated from Conrad Weiser with no immediate plans for a career. He knew a four-year college didn't suit him, so he chose RACC for his education. "I wanted to keep costs down and since I didn't take my SATs seriously, I considered community college as my best option."
While at RACC, Joshua received a Foundation Scholarship which encouraged him to earn more than one degree. Joshua graduated from RACC with two Associate Degrees in Web Site Development and Computer Technology. 
One of Joshua's instructors, Marty Kelly, who is also RACC's webmaster, gave him an opportunity to work as a work-study in the web department. "Over the years of employment at RACC, Marty was a wonderful supervisor who made every effort to see me thrive academically and professionally. People like Marty are the reason why a student should go to RACC." Marty not only encouraged and supported Joshua while he was at RACC, but they stayed in touch after graduation and continue to be close friends.
Joshua directly credits RACC for providing him with a pathway not only for transferring to a four-year college but also for gaining employment opportunities. "My education at RACC enabled me to acquire part-time work at the college. Plus, it was instrumental in obtaining an IT Internship at Morgan Corporation, which continued a trickle effect as I transferred to PSU." Joshua was able to leverage his work experience at RACC to get a web internship in the Marketing and Communications Research Department at Penn State. Joshua ultimately graduated from Penn State with Bachelor's and Master's Degrees in Computer Science.
Joshua currently works at Cerner Corporation as a System Engineer and as an adjunct lecturer at Penn State, Harrisburg campus. Joshua's immediate plans moving forward are to continue to explore fields within Computer Science, further his education with various IT/System Administrator certificates and focus on improving his lectures for his college classes. 
Joshua feels that RACC was a turning point for him and continues to highly recommend RACC as a starting point for anyone looking to further their education. "RACC provides many dual admission opportunities that facilitate easy transfer of credits; and the classes, instructors and work-study programs help you calculate a trajectory for your career."