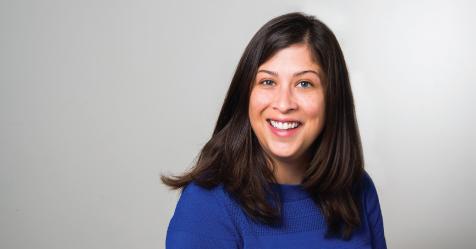 RACC Student Spotlight: Missy Hassler
Growing up in the foster care system, Missy Hassler faced some challenges, but she continually pushed forward. "It definitely taught me not to give up and not to wait for things to be handed to me - go out and get them yourself." And now that's exactly what she intends to do at RACC.
Missy graduated from Brandywine Heights in 2002 and dreamed of becoming a lawyer. "After high school, I received a certificate to become a legal secretary to get my foot in the door," Missy stated, "but discovered I could make more money tending bar."
It was not until Missy's son was born that she realized it was time to find a different job. As she searched the classified ads, she realized that starting a career would be more difficult then she thought. She landed a job as a Member's Specialist at the Greater Reading Chamber Alliance, but also decided to start pursuing her dreams. "I'm at a point in my life where I can handle school, and work toward not only my future, but my son's as well."
Many friends referred Missy to RACC to continue her education. "RACC is full of community-minded individuals, right from the start in admissions to the faculty and students. My teachers are very supportive and my fellow students are friendly and kind. The overall atmosphere on the campus is pleasant." Missy admits that she was nervous about enrolling and concerned about finances, but RACC's streamlined application process and the knowledgeable financial aid department made it easy to follow.
RACC is already making a difference in her current position at the Chamber. The quality education she is receiving has made her more comfortable and well-versed in a business setting. "Confidence can only come with knowledge and that's what RACC is providing me."
Missy is majoring in Criminal Justice with the hopes of becoming a private detective. "I feel this is an excellent career choice and, not only do I think I'll excel at it, but I think it will be helpful for my community as well." For Missy, RACC is exactly what she needed to make her dreams come true. "I believe it's never too late! If you have a dream, follow it and don't stop until you see it come to fruition."