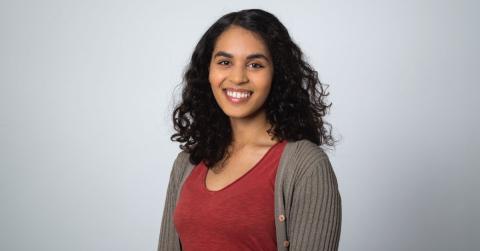 Sharibel Urena
Sharibel Urena was born in New York City and moved to Berks County with her parents when she was in elementary school. She loved studying chemistry, biology and French in high school, so when she graduated from Wyomissing Area High School in 2011, she was eager to continue these studies in college.
Due to her excellent high school academic performance, Sharibel received a full scholarship to RACC. She enrolled in RACC as a science transfer major. "RACC gave me the opportunity to experience college close to home before deciding which four-year institution was right for me."
With the guidance and support of RACC faculty and staff, particularly Jane Dietrich and Jodi Corbett, Sharibel's transfer process was smooth. "RACC's great selection of academic programs and ease in transferring to four-year institutions was very helpful. Having knowledgeable mentors and excellent counselors at RACC allowed me to stay on track with my academic goals." Sharibel transferred to Albright College and graduated with a bachelor's degree in biochemistry with a minor in French within four years of graduating high school.
In addition to immersing herself in trigonometry and chemistry her first year at RACC, Sharibel took advantage of the various opportunities to get involved on campus and in her community. She was a chemistry and math tutor and continued to do so at RACC even after transferring to Albright. She was a member of the International Club where she made great connections with people from around the world. There, she participated in the annual International Festival, and spent several hours volunteering to help RACC raise over $15,000 for Caitlyn's Smiles, a local charity. Sharibel got her first taste of the performing arts when she participated in RACC Idol and won 2nd place in the competition. "I developed an even deeper passion for performing at Albright by joining the Women's Chorale and I continue to sing with a local select chamber choir and volunteer in a community performing arts organization, Barrio Alegria."
Sharibel also took advantage of the cross-registration program to continue her French education at Albright while taking classes at RACC. "I was placed into a 300 level French course at Albright as I attended classes at RACC and excelled at it for the next three years. Plus, I was also able to study abroad for a month in Paris." Sharibel ultimately earned a 3.9 GPA in French, was inducted into the National French Honor Society, Pi Delta Phi, and became fluent in her third language, in addition to English and Spanish.
Thanks to the excellent education and experiences she received, Sharibel was well prepared and qualified to work professionally in the scientific field. Her first position after graduating was at a pharmaceutical laboratory as a chemist in Lancaster. The technical experience Sharibel gained there made her a perfect fit for a position much closer to home at Carpenter Technology, where she currently works as an environmental chemistry laboratory technician. "The STEM courses I took at RACC were the foundation for the higher-level science courses I took later in my academic career. The literature and speech classes and the diverse backgrounds of the people I met at RACC helped me grow from a very shy, quiet student, into one that was comfortable speaking in front of a classroom and performing on a stage."